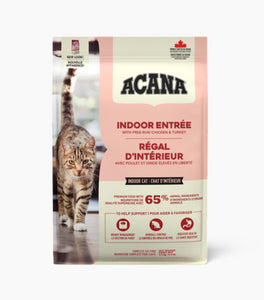 ACANA CAT INDOOR ENTREE
Specially crafted for your indoor cat, our ACANA™ Indoor Entrée Recipe is uniquely suited to the needs of your domesticated feline. Rich with 65% quality animal ingredients1 including free-run2 chicken and turkey, and whole herring, Indoor Entrée has the animal protein your cat needs to be their best. This nutrient-dense recipe also helps support key health benefits for your indoor cat, including weight management, hairball control, and digestive health. Nurture your indoor feline with a recipe tailored to keep them healthy and happy with ACANA Indoor Entrée!
Rich with 65% quality animal ingredients1 including free-run2 chicken and turkey, and whole herring.
Carefully balanced calories from protein and fat, plus L-carnitine help maintain a healthy body weight.
Helps control hairballs with fiber from oat groats, miscanthus grass, lentils, chickpeas and lentil fiber.
High quality protein, fibre and a probiotic blend help support your indoor cat's digestive health.
Proudly Crafted in Canada using ingredients from around the world.
1Approximate and derived from the unprocessed state of the ingredients.
2Our free-run chickens and turkeys are not housed in cages and are able to move in a barn without outdoor access.
Our raw ingredients are frozen at their peak freshness.
Analytical Constituents
Crude protein 37 %
Fat content 14 %
Crude ash 9 %
Crude ?bre 6 %
Moisture 10 %
Calcium 1.3 %
Magnesium 0.1 %
Taurine 0.1 %
Phosphorus 1 %
Omega-6 2 %
Omega-3 0.5 %
DHA 0.2 %
EPA 0.1 %
Fresh chicken (18%), chicken meal (16%), herring meal (15%), oat groats, whole peas, chicken fat (5%), ground miscanthus grass, whole green lentils, raw turkey (4%), raw whole herring (4%), whole chickpeas, whole red lentils, lentil fibre, raw rabbit (1%), fresh chicken giblets (liver, heart) (1%), raw turkey liver (1%), dried kelp, fresh whole butternut squash, fresh whole pumpkin, whole cranberries, whole blueberries.
ADDITIVES (per kg): Technological additives: Tocopherol extracts from vegetable oils: 121 mg, citric acid: 40 mg. Sensory additives: Rosemary extract: 80 mg. Nutritional additives: Choline chloride (choline): 1400 mg, Taurine: 400 mg, Zinc proteinate: 120 mg, Copper proteinate: 11 mg, Vitamin B1: 25 mg, Vitamin B2: 10 mg, Vitamin B3: 50 mg, Vitamin B5: 8 mg, Vitamin B6: 7.5 mg, Vitamin B9: 0.75 mg, Vitamin B7: 0.25 mg, Vitamin B12: 0.1 mg, Vitamin A: 1875 IU, Vitamin D3: 250 IU, Vitamin E: 205 IU, DL-methionine: 99mg, L-carnitine: 75mg. Zootechnical additives: Enterococcus faecium DSM 10663/NCIMB 10415: 1 x 10 9 CFU.
ACANA Indoor Entrée formulated to meet the nutritional levels established by FEDIAF for Adult Maintenance. | METABOLIZABLE ENERGY: 3630 kcal/kg (414 kcal per 250ml/114g cup) with calories distributed to support peak conditioning; 38% from protein, 22% from carbohydrates, and 40% from fat.