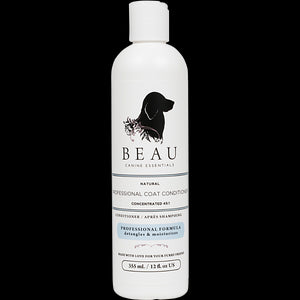 BEAU DETANGLE SHAMPOO 12OZ
Beau Canine Essentials professional strength formula helps to moisturize the skin and coat and leaves it with a soft texture. It also helps to detangle matted coats.
Features:
-Dilution ratio: 45:1
-Leaves coat with a soft texture
-Fragrance: Cherry almond
Ingredients:
Water, Cetearyl Alcohol, Grape Seed Oil, Vegetable Glycerin, Behentrimonium Chloride, Coconut Oil, Ethyl Lauroyl Alginate Laurate, Vitamin E, Panthenol, Glyceryl Laureate, Cetyl Trimethyl Ammoniu, Chloride, Parfum, Methylisothiazolinone.