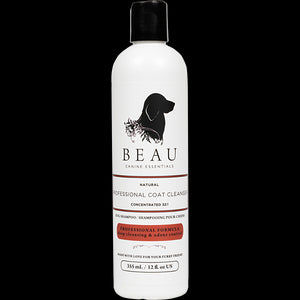 BEAU ODOUR SHAMPOO 12OZ
Beau Canine Essentials Deep Cleansing Formula thoroughly cleanses and degreases extra dirty dogs and eliminates bad odors. It also moisturizes the coat and leaves it with a clean scent.
Features:
-Concentration 32:1
-Degreaser
-Gentle on hands
-Fragrance: Cherry Almond
Ingredients:
Water, Cocamidopropyl Betaine,Sodium Lauryl Sulfoacetate, Disodium Laureth Sulphosuccinate, Panthenol, Aloe vera extract, Ethyl Lauroyl Arginate, Glyceryl Laurate, Parfum, Methylisothiazolinone.