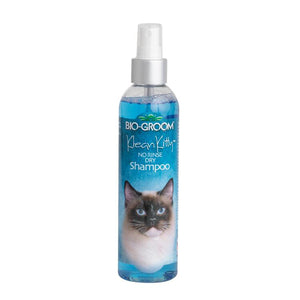 BIO GROOM KITTEN SHAMPOO 236ML
Bio groom waterless klean kitty Shampoo is a waterless Shampoo for touch ups or bad weather cleaning. Tearless, pH balanced, has no alcohol and fast drying.
Klean Kitty is a waterless cat shampoo
Cleans and conditions the skin and coat
Will not leave an irritating residue
Mild, pH-balanced formula
Free of parabens and artificial thickeners
Direction For Use:
Wet hair thoroughly with Klean Kitty No Rinse Shampoo and massage well until a light cleansing foam appears. Dry with a soft, absorbent towel and then simply brush, comb, or blow dry.