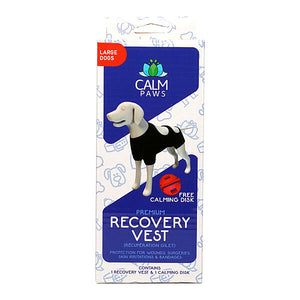 CALM PAWS RECOVERY VEST LRG
Calm Paws Calming Recovery Dog Vest is the paw-fect option for pets who need to protect a wound or surgery on their lower body. It's designed with adjustable straps for a comfortable fit and has a pocket that holds a Calm Paws disk. The scented disk is infused with natural essential oils to help soothe and calm your furry friend during stressful situations.
Key Benefits:
-Designed from premium soft, stretch fabric.
-Features Velcro straps and rear cuff snaps for a comfortable and snug fit.
-Comes with a Calm Paws Calming disk that's infused with essential oils to help keep you pet calm.
-Helps protect your pet's injuries, rashes and post-surgery wounds.
-Helps keep your buddy from biting and licking her injured area or surgical site, promoting recovery from surgery or wounds.