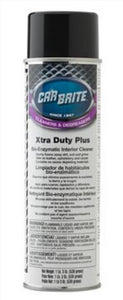 CAR BRITE XTRA DUTY BIO- EMZYMATIC CLEANER 510G
A spearmint scented, high foaming bio-enzymatic cleaner for use on vinyl, leather, rubber and fabric.
It removes protein-based stains including blood, milk, wine, vomit, urine and feces.
Cleaning agents help lift the surface stain while enzymes continue to dissolve embedded stains and odor-causing molecules for up to 80 hours.
Extremely easy-to-use aerosol that effectively cleans wide variety of interior surfaces
Dry white foam cleans without saturating fabric surfaces
Formulated without methylene chloride to ensure worker safety
Body Shop Safe