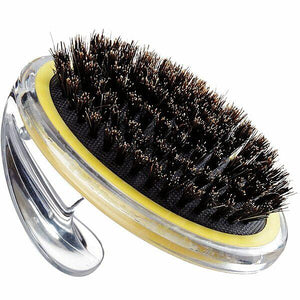 CONAIRPRO PET-IT BRISTLE BRUSH
Features:
-Palm Brush for dogs: This dog brush features firm pin bristles that remove loose hair from your dogs undercoat without damaging the topcoat. Use to detangle fur & help reduce shedding.
-Easy to use: ConairPro Dog & Cat Pet-It brushes are made to fit seamlessly in the palm of your hand. Great for animals who are scared of large brushes, these brushes also work for grooming cats!
-Pet Grooming Supplies: Grooming your cat or dog is easy when you have the right tools. ConairPro makes professional-quality brushes, shears, clippers, nail grinders & more to keep your pet looking great!
-Made to last: ConairPro Dog & Cat pet grooming tools are designed with high-quality materials for durability & performance. These brushes, combs, shedding tools, nail grinders & more are made to last!
-Share the love: From slicker brushes, shedding tools & shampoo brushes to full home grooming kits, ConairPro Dog & Cat makes quality grooming supplies & products to help you take care of your cat or dog
Combination of 50% boar and 50% synthetic bristles works to distribute the skin's natural oils through all cost types.
Use daily to maintain a shiny coat.