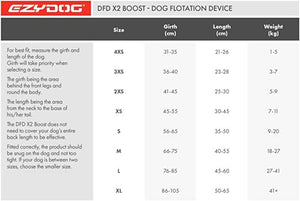 EZY DOG DFD M2XSY
BEST HIGH-PERFORMANCE FLOTATION DEVICE DOG LIFE VEST JACKET: Combining advanced manufacturing techniques and the highest performance materials available, our DFD is designed, and extensively tested, to give your dog the most ergonomic and comfortable fit possible.
ADJUSTABLE DESIGN WITH 50% MORE FLOATION MATERIAL: Adjustable neoprene straps form an ergonomic, secure fit that keeps up with your dog. The EzyDog dog life vest flotation device uses superior durable construction and features up to 50% more flotation material than most other pet life jackets.
ERGONOMIC INTEGRATED GRAB HANDLE: The integrated grab handle in our dog life vest provides and easy and secure way to handle your dog and makes it quick and easy to guide your dog into and out of the water.
HIGHLY REFLECTIVE INTEGRATED TRIM: The highly reflective detailing designed into your EzyDog Doggy Flotation Device provide you with greater visibility and improved night time safety.
CUSTOM SIZING FOR A PERFECT FIT: EXTRA LARGE (Extra Large) size fits dogs with a 20"-26" body length, a 30"-48" girth, and a weight over 90 pounds.