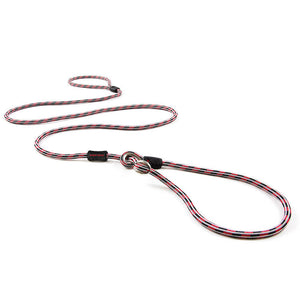 EZY DOG LUCA LEAD RED 67"
This unique all in one leash and collar, offers great control when walking, exercising or training. The leash is 170cm in length with a rope thickness of 6mm for the Luca LITE Leash. The quick slip on and go fitting, makes it ideal for both quick walks around the block or longer journeys.
MAKE TRAINING A BREEZE!
The Luca Leash offers the ability for the handler to give a controlled quick and gentle correction that eases when the pressure is released. It is a fantastic leash for teaching your dog to walk comfortably beside you and great for teaching new tricks. Please be aware, No slip collar or leash should be left on a dog that is tied up or unsupervised.
DESIGNED FOR LARGE AND SMALL DOGS
This Luca leash has been designed for both Large and Small dogs in mind. The leash includes high quality extra strength climbing rope and unique polished metal hardware and is available in both "Standard" and "LITE" sizes.
FEATURES:
Collar and Leash in one
High quality climbing