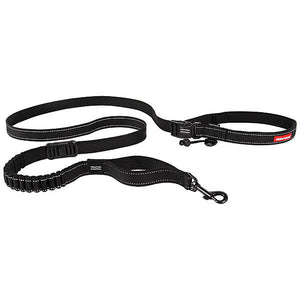 EZYDOG ROADRUNNER LEAD 7'
The Road Runner is the ultimate hands free dog walking or running experience.
The side-release buckle allows you to alter the length of the leash or un-clip it to wear it around your waist, shoulder, or hand.
The Road Runner includes Zero Shock™ Technology, the advanced shock absorbing component in the center of the shock absorbing leash that cushions and eases the pressure for both the owner and the dog.
Features:
-When used as a hand held leash the length is 6.5 ft.
-Use as a standard dog lead or unclip the handle to wear around waist/shoulder or use as a temporary tether
-Sliding buckle allows you to shorten the length of the leash if required
-Zero Shock Technology to cushion against sudden jolts
-Made from EzyDog Soft Touch™ Webbing and a neoprene lined handle
-D-Ring and Barrel lock for accessory attachment