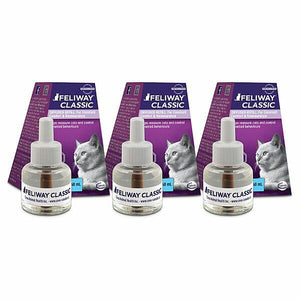 FELIWAY CLASSIC 30 DAY REFILL 3PK
Feliway® Classic is a clinically proven solution to help comfort and reassure your cat at home. It works by mimicking calming messages that cats naturally release in the air called pheromones. These messages help cats and kittens adjust to changes in their environment, feel comfortable in a new home and avoid unwanted behaviours like urine spraying, scratching and hiding. Trusted by veterinarians and pet owners worldwide for over 20 years, more than 14 million cats have benefitted from Feliway® cat pheromone products.
Features:
-Comforts cats at home and helps avoid unwanted behaviours like urine spraying, scratching or hiding.
-Vet Recommended & Drug-Free Solution
-Best results typically seen after 3-4 weeks of continuous use; some cats show improvements as soon as the first 7 days.
-Contains 1 diffuser device + 1 30-day refill.
-Plug in diffuser where your cat spends the most time and use continuously.
-Diffuser does get warm for proper evaporation.
-One diffuser covers an area of 700 ft2 -- ensure proper orientation of diffuser and adequate clearance above (4 ft).
-Replace refills every 30 days and diffusers every 6 months.
-Do not use with extension cords, adapters or converters.