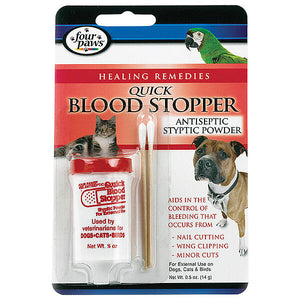 HEALTHY PROMISE QUICK BLOOD STOPPER
Four Paws® Quick Blood Stopper is an antiseptic powder and gel used by both veterinarians and breeders to aid in stopping blood when docking, cropping, and/or nail cutting.
Details:
-Designed to help stop bleeding fast.
-Stops bleeding from clipping nails, docking, and minor cuts.
-A handy healing remedy for your pet.
-Suitable for dogs, cats and birds.
-Ideal addition to a first aid kit or grooming kit.