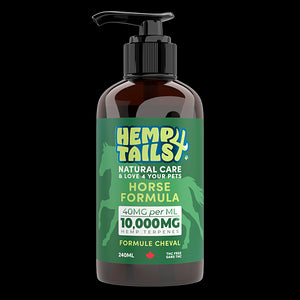 HEMP 4 PAWS HORSE 240ML
This product contains 10,000mg of hemp and is recommended for horses.
Features:
-Can help with anxiety, cancer, seizures, epilepsy, pain, chronic inflammation, bowel disease, nervous system, appetite, nausea, cardiovascular health, and arthritis
-Suggested dose: 4ml to 8ml per day. Note: If your horse is currently on prescription medication, please consult your veterinarian before taking.
Ingredients: CO2 extracted hemp and organic cold-pressed hemp seed oil.