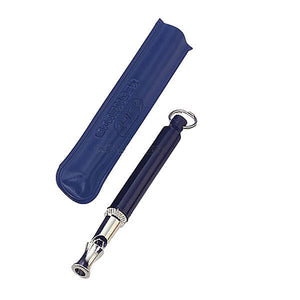 HS SILENT TRAINING WHISTLE
A perfect instrument for those who train dogs! Your canine will hear you even being 400 meters away from you (depending on direction and strength of the wind). That is very practical not only during training but hunting, rescue activities and tracking too. You will hear a slight high pitched sound, so do not worry about loud annoying noise. The tone can be adjusted by turning the screw after removal of the protective cover. During training it is important the same pitch of note is always maintained. This can be achieved by use of the locking nut fitted on the adjustment screw. If you vary the range of frequencies and the duration of the emitted sound you can personally create a specific set of sounds for different commands.
This whistle consists of a tube, mouthpiece, O-ring, sound adjustment screw and plastic cover. The sound is produced when you are buzzing your lips into a mouthpiece. With its adjustable frequency, you can tweak and tinker to your heart's content to help you find the ideal pitch to suit your dog.
This whistle is compact and lightweight enough, so you can take it everywhere you go. High rust proof and corrosion resistance qualities make this product perfect for high humidity areas. In addition, plastic cover protects the whistle against dirt.
Practical, reliable and long living. This whistle will take a worthy place among your dog equipment.