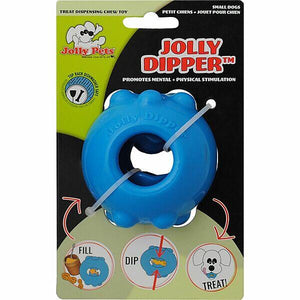 JOLLY PETS DIPPER BALL BLUE 3"
Stuff it, bounce it, throw it, float it, chew it, lick it - the Jolly Dipper™ can do it all! Not only is its special material super tough for chew time, but the Jolly Dipper™ features a patented dip-to-treat feature that will keep your dog coming back for more!
Features:
-A delivery system with play-pattern-based treating for dogs
-Interactive treat toy to help with dog boredom or separation anxiety
-Sure to give your dog a run for their money
-Features a patented dip to treat dispensing option
-Slows down treat time from a quick snack to challenge and mentally stimulate your dog during treats.
-Made of their signature TPE material for extended chew sessions