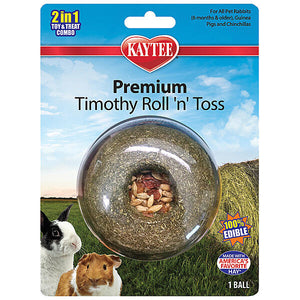 KAYTEE ROLL 'N' TOSS W/TIMOTHY HAY 180G
Kaytee Premium Timothy Roll 'n' Toss combines activity with a treat. Roll 'n' Toss is a great way to keep your small animal active while also supporting dental health. Roll 'n' Toss is a 100% edible toy and treat your small animal can chew on for hours. Made with America's Favorite Timothy hay and yummy vegetables your small animal will love!
Features:
-100% edible toy, chew & treat combination
-Supports dental health by encouraging natural chewing activity
-Ideal for bonding & added habitat enrichment
-Made with America's Favorite Hay
-Delicious grains and vegetables for added flavor variety
Ingredients:
Sun-cured Timothy Grass Hay, Potato Starch, Wheat, Barley, Dehydrated Carrot, Dehydrated Sweet Potato, Green Split Peas, Glycerin, Sodium Alginate, Propionic Acid (Preservative), Potassium Sorbate (Preservative).