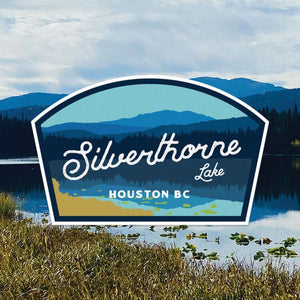 LANDMARK SERIES - SILVERTHORNE LAKE
$2 from each full price sticker sale goes to MMNSC
Silverthorne Lake is central to the Morice Mtn Nordic Ski Club Trails. There are some incredibly summer activities to be had such as paddle boarding, swimming, biking, camping, and more! Just hold off for a while due to the fire!

The lake is a small and easy to access. The camping site is located on the Northern shore. The lake has a small island towards the Southern end. Silverthorne Lake Rec Site has a few places to camp, a day shelter, fire pits and outhouses.
 Except for getting to the lake, please stay off of the trails with vehicles.
4.76" x 3"