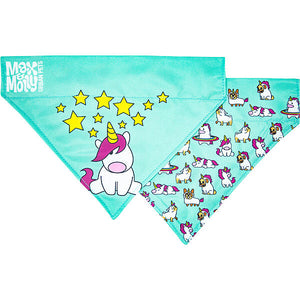 MAX & MOLLY BANDNA UNICORN L
Features:
Unicorn - Bandana
-Trendy, easy slide on Bandana.
-Matching Collar/Leash/Harness available.
-2 designs, 1 bandana - reversible
-Extra soft for the comfort of your dog.
-Extra cool to make your dog shine even more.
Measurements M/L: Width: 22,5 cm / Length: 17 cm /Sleeve height: 4,5 cm
Material: 100 % Polyester
Care instructions: Gentle machine wash or cold hand wash. No tumble drying.