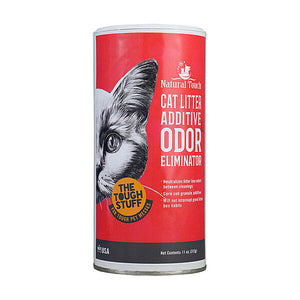 NATURALTOUCH LITTER DEODORIZER 312G
Natural Touch controls a wide variety of odors without interrupting good litter box habits. Natural Touch is 100% organic (processed corn-cob) and mixes easily with all types of litter. Packed in a convenient shaker container. Also great for deodorizing trash cans and dumpsters. Absorbs liquids and deodorizes.
But wait! This is not just for Litter Boxes. You can sprinkle 1-2 tablespoons of Cat Litter Additive into bottom of small animal cages. The corn cob will absorbs odors and help keep cages smelling fresh & clean between changes. Yes…this additive is safe for rat cages.