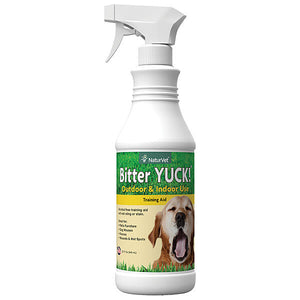 NATURVET BITTER YUCK TRAINING AID 32OZ
There is no job too big for Bitter Yuck! spray. The convenient trigger sprayer makes applying quick and easy. Our special water based formula will not sting or stain. Can be used directly on your pet's hot spots, fur, bandages, and more. Can be used on plants also.
Stops Dogs, Cats & Horses from chewing on:
-Hot Spots
-Summer Itch
-Sores
-Wounds
-Bandages
-Furniture
-Drapes
-Wood
-Paws
-Tails & Manes
-Bitter Yuck! may be sprayed over topical medication.
-Bitter Yuck! can be used on or around plants.