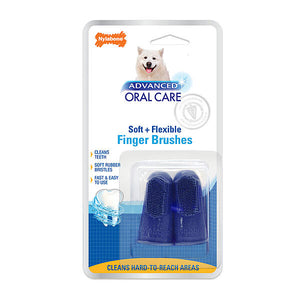 NYLABONE ORAL CARE FINGERBRUSH 2PK
Nylabones Advanced Oral Care Dog Finger Brush helps you reach those tricky areas in your pet's mouth where plaque and tartar love to hide. All you have to do is slip on the dental finger brush and start scrubbing! Each brush also features soft, flexible bristles that are gentle on the gums and teeth. When used regularly with your dog's dental health routine, this toothbrush can help prevent the risk of periodontal disease and improve overall oral wellness.
Features:
-These veterinarian-recommended Advanced Oral Care Finger Brush make brushing easier for you and your dog.
-Simple design with soft bristles allows you to slip the brush onto your finger and gently brush your dog's teeth
-Designed to get those hard-to-reach areas where plaque and tartar like to hide
-Comes with 2 brushes