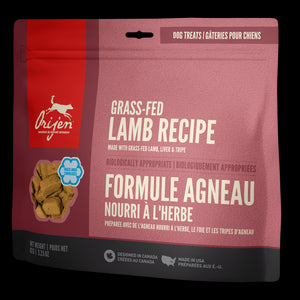 ORIJEN FREEZE DRIED LAMB 92G
ORIJEN Grass-Fed Lamb freeze-dried treats are gently freeze-dried, retaining all of the natural goodness of our quality ingredients without the addition of synthetic preservatives. Our freeze-dry kitchen is equipped with nitrogen tunnels which flash-freeze ingredients at extremely low temperatures (-55 to -70°F), locking in their vitalizing nutrients. An 18-hour freeze-drying process gently converts the water frozen in the ingredients into ice vapour. This means only water is removed from our ingredients, leaving behind all of their goodness in a concentrated form, creating a nourishing taste experience your dog will love.
Raw lamb (60%), raw lamb liver (30%), raw lamb tripe (9.9%). ADDITIVES (per kg): Technological additives: tocopherol rich extract of natural origin.