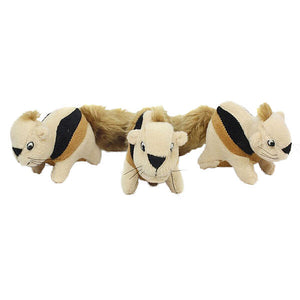 OUTWARD HOUND SQUAKIN' SQUIRRELS
Refill the fun with Squeakin' replacements 3 pack! Squeakin' Animals are fun on their own, but stuff 'em in this Hide A Squirrel, Hide A Bee or Hide A Bird toys for a game of hide-and-squeak!
Bound to become your best friend's favorites, these lovable toys are durably designed with an engaging array of shapes, sounds and textures so you can have huge fun with your furry friend.
Features:
-3 squeaky animals
-Refill your Hide A Squirrel, Hide A Bee or Hide A Bird toys
-9.5" L x 6" W x 3" H