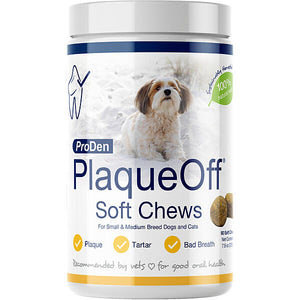 PRODEN PLAQUEOFF CHEWS 90PC
ProDen PlaqueOff Powder promotes good oral health around the clock while you do fun things together! So why not feed a dental chew containing Plaque Off? These chews clean plaque and tartar by abrasive action to help support healthy teeth, gums, and breath odor. They also contain Probiotic digestive support and Omegas for skin and coat.
Features:
-Key Ingredient: 100% Natural Kelp
-Improves oral hygiene 24/7
-Rich in Omega Fatty Acids
-Highly palatable, digestible, safe, and effective
-Grain, Soy, and Gluten Free
Ingredients: Active Ingredients: ProDen PlaqueOff 330mg/ 2.5g soft chew. Inactive Ingredients: Brewers Dry Yeast, Canola Oil, Dried Potato Product, Glycerin, Lecithin, Mixed Tocopherols, Molasses, Natural Flavoring (Non-animal), Rosemary Extract, Sorbic Acid, Tapioca Starch, Vegetable Oil, Water.
Made in USA