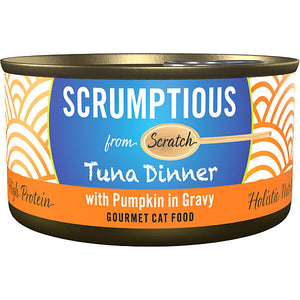 SCRUMPTIOUS TUNA W PUMPKIN 80G
What is Red Meat Tuna? The metabolically active muscle that allows tuna to swim for long periods of time without rest. The red pigment comes from the high myoglobin content in the muscle that allows it to transfer more oxygen thus providing more energy (similar to duck breast) than light meat tuna.
Taste preferred by cats over light meat tuna, chicken and beef
Rich in high quality protein to help support muscle growth
Highly digestible for a healthy digestive tract
All natural
No added fillers, by-products or meals
Tuna Dinner with Pumpkin in Gravy
INGREDIENTS: Tuna, Tuna Broth, Pumpkin, Sunflower Oil, Modified Tapioca Starch, Tricalcium Phosphate, Xanthan Gum, Magnesium Sulfate, Zinc Oxide, Reduced Iron, Vitamin E Supplement, Thiamine Mononitrate, Sodium Selenite, Manganese Sulfate, Niacin Supplement, Vitamin A Supplement, Copper Glycine Complex, Vitamin K Supplement, Pyridoxine Hydrochloride, Calcium Pantothenate, Riboflavin Supplement.