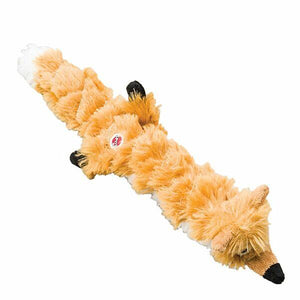 SPOT SKINNEEEZ MINI FOX
Little pups love to shake things up with the Ethical Pet Mini Skinneeez Extreme Quilted Fox Dog Toy. This fantastically floppy unstuffed plush toy hangs limply just like prey to awaken the natural hunter in your dog. With quilt stitching and four layers of fused fabric for durability, this fox can handle some serious shakes and chews! It's great for tossing, fetching and carrying around, with two squeakers inside for extra amped-up fun. The 14-inch size makes it perfect for small to medium dogs.
Key Benefits:
-Soft furry plush fox makes a nice cuddle friend for your little bud.
-Stuffing-free design makes it nice and floppy and terrific for shaking and tossing.
-Four-layer fused fabric with diamond-quilted stitching helps this toy hold it together during ruff play.
-Two squeakers inside will rile up your furry friend.
-Smaller 14-inch size makes this toy ideal for small and medium pups!